Every indoor grower knows that different grow light series have different designs and functions. So what about the different models within the same light series?
Mars Hydro has released many LED grow light models, such as 1000, 2000, 3000 … Among those models, Model 6500 and Model 8000 are the two largest. In this blog, Mars Hydro will introduce the similarities, differences, and applications between Model 6500 and Model 8000.
---
Model 6500 includes: FC6500, FC-E6500, SP6500
Model 8000 includes: FC8000, FC-E8000
What we are comparing are DIFFERENT MODELs IN the SAME LIGHT SERIES. The differences between FC and FC-E series have been explained in our previous blog [FC VS. FC-E Series]. Feel free to check it out if interested.
Well in this "Model Battle" blog, we will only illustrate the differences between Model 6500 and Model 8000. So that means: [FC6500 VS. FC8000], and [FC-E6500 VS. FC-E8000].
Mars Hydro 6500 VS. 8000丨Similarities: Dimensions & Coverage, Diode & PPE, Spectrum Design
6500 and 8000 share similar dimensions – around 1.15mx1.15m(45''x45'') – size difference within 5cm. So their optimal coverage is the same – 5×5 for the vegetation stage and 4×4 for the flowering stage.
As long as it's the same light series, although the models are different, the 6500 and 8000 apply the same brand of diodes so share the same PPE.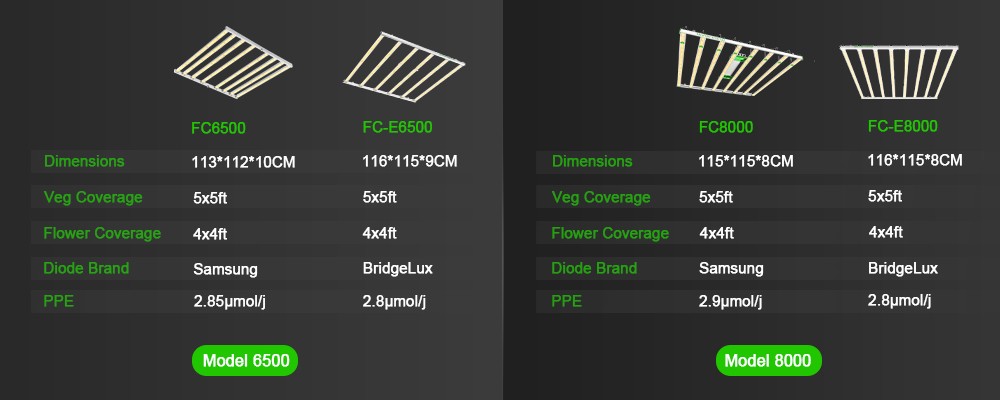 Besides, all 6500 and 8000 models share the same spectrum design as shown in the picture, no matter which light series they belong to.

Mars Hydro 6500 VS. 8000丨Differences: Wattage, Diode Quantity, PPFD Map
One of the most fascinating points is the difference between the 6500 and 8000 models, which confuses many customers. The difference brings a better model or more suitable model for different groups.
Wattage(BTU)
The wattage of Mars Hydro 6500 LED grow lights has changed several times, from the initial 650W to 680W, and now the power consumption of FC6500 and FC-E6500 is 730W. (The actual power draw is different for different countries. The overall deviation is within 5%.) However, the newly released Mars Hydro 8000 LED grow lights are 800W, consuming 70W more electrical power than Model 6500 LEDs.
Thus 6500 and 8000 have different BTU numbers. The BTU of Mars Hydro 6500 LEDs is 2489.3; while the BTU of Mars Hydro 8000 LEDs is 2728.

Diode Quantity & Ampere Value
Due to the higher power of the 8000, Mars Hydro installed more diodes in the 8000 LED grow lights to ensure that each diode draws the same low current as the Mars Hydro 6500 lights so that the diodes are not overdriven and their life span is not shortened.
As for the reason why the same light model in different light series is different in diode quantity, please feel free to check out the blog: FC VS. FC-E Series.
However, just because a diode has the same current does not mean that the current is the same throughout the light source – or that the AMPS are different.
Amperage, or amps, which may have little impact on many individual growers, has a greater impact on some commercial growers. Some areas have regulations on the total amperage for commercial use. Therefore, less amperage means more LED grow lights can be set up and more grow areas can be illuminated.
Commercial growers may consider the difference in amperage between the Model 6500 and the Model 8000 depending on existing regulations and circumstances.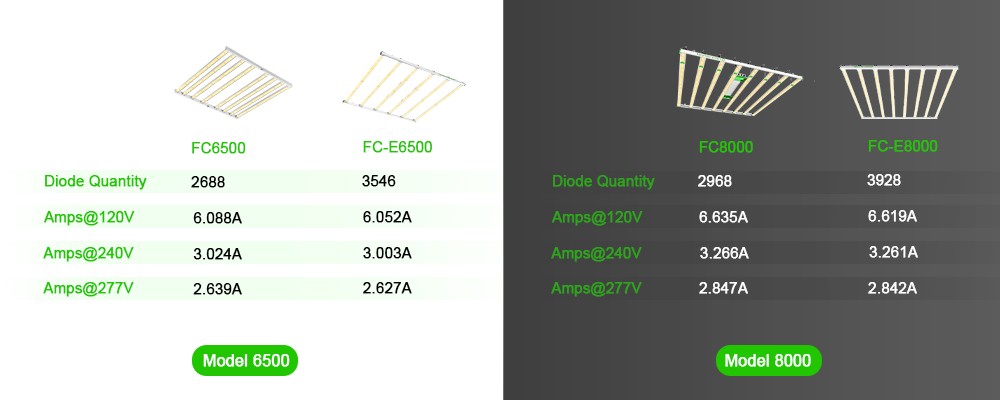 PPFD Map & Intensity
PPFD is the main feature of any LED grow light. It shows the distribution of PAR, the uniformity of light, and, most importantly, the amount of PAR that the plant canopy can receive per second. Growers might have the idea that the bigger the PAR readings, the bigger the yield; whereas it's not quite accurate. Different plants at different growth stages require different amounts of photons. We've published a blog on the PPFD for plants at different stages under different circumstances. Feel free to check it out before we go further.
Certainly, the Model 8000, because of its bigger watts, has greater PAR readings(PPF)

As we can see from the PPFD graph (tested in a 4'x4′ grow tent, hung at 12"), the PPFD figure for the 6500 model is about 1,000~1,400umol/m²/s, while the PPFD figure for the 8000 model is about 1,200~1,550umol/m²/s. There's a difference of about 200umol/m²/s. Although this may seem small, it's quite a big difference in practical use.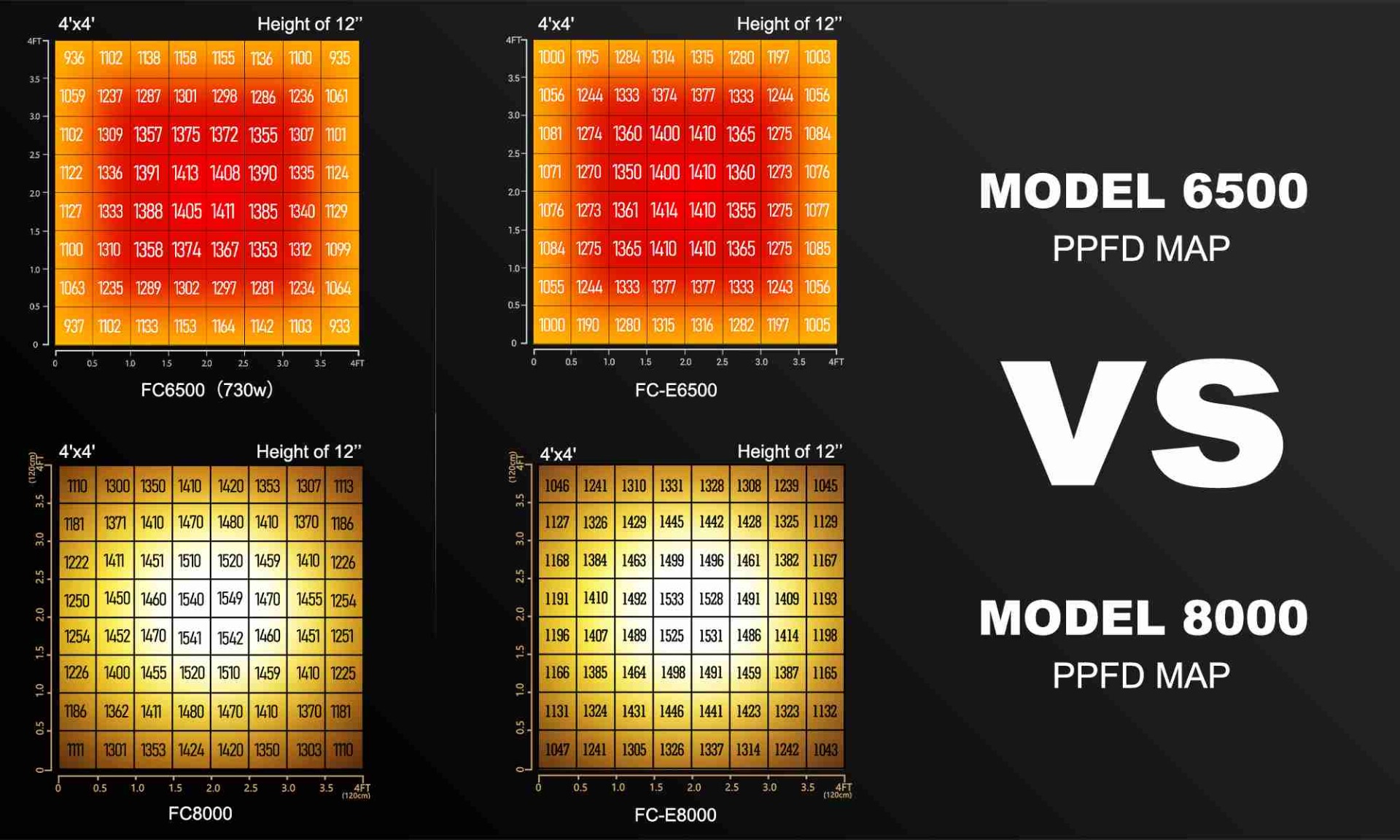 Mars Hydro 6500 vs. 8000丨Application: Which Model Suits Me More?
In Plantscultivation, we know that PPFD 1,100umol/m²/s is a saturation point, beyond which it becomes difficult and even dangerous for plants to absorb photons. However, the theoretical maximum PPFD Plants can absorb is 2,100umol/m²/s. When at this point, Plantsgrowth speed, plant size, and Terpenoids production will be stunning. Although the maximum PPFD currently applied is 1,500umol/m²/s – not yet at its peak – the yield of Plantsat 1,500umol/m²/s is also unmatched by other common Plantsindustries.
To help Plantsabsorb more photons and flourish, carbon dioxide(CO2) comes into play. If you need your Plants to absorb the max PPFD of 1,500umol/m²/s, you'll have to consider carbon dioxide in the cultivation. We recommend our blog CO2 for Plants for further reading and continue the 6500 vs. 8000 comparisons.
The first application difference between the Model 6500 and the Model 8000 is whether the LED grow lights will be used in cultivation with CO2 supplementation, in which the saturation of CO2 is over 1,200ppm.
The Model 8000 LED grow lights are made for this "CO2 cultivation" because the light intensity is sufficient to activate 100% photosynthesis and to obtain maximum yield at CO2 concentration over 1,200ppm. The Model 6500 lights are more suitable for growers who are proficient in the application of CO2 in cultivation.
The Model 6500 LED grow lights are commonly used in general cultivation without additional CO2 or cultivation with CO2 addition at 800ppm~1,000ppm. The Model 8000 lights are more suitable for all indoor cultivation without additional CO2 and with low CO2 addition.
Besides, there's another noticeable difference between Model 6500 LED grow lights and Model 8000 LED grow lights – their wattage – which is directly associated with the cost of electricity consumption.
For personal scale cultivation or small room cultivation, a "70W" difference makes no significant change in electricity bills. But when the cultivation will use over 100 units or even over 1,000 units, the "70W" difference becomes "7,000W" and "70,000W", the electricity cost will also increase exponentially.
Mars Hydro 6500 vs. 8000丨 Summary
In summary, the Model 8000 LED grow light (FC8000, FC-E8000) has a larger output, more diodes, and higher PPFD levels than the Model 6500 LED grow light (FC6500, FC-E6500). And while these make the Model 8000 more light intense, they are also more difficult to control.
Mars Hydro recommends Model 6500 LED grow lights (FC6500 & FC-E6500) for cultivators who do not use CO2(carbon dioxide) or who use low saturation CO2 in their cultivation, and recommends Model 8000 LED grow lights(FC8000 & FC-E8000) for those who use high saturation CO2 in their cultivation or who have experience in managing large LEDs.
In addition, for commercial growers, due to the wattage and ampere differences between Model 6500 LEDs and Model 8000 LEDs, it's best to pick up the model that fits your local provisions and your needs.
Choosing the right fixture for your cultivation will avoid wasting money on electricity bills or not being able to utilize the maximum potential of the LED grow lights, to allow for a qualitative improvement in yield and quality